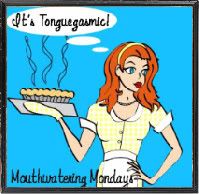 Last month when Amy and I got together for our Once a Month cooking date, we ended up with an extra jar of Mancini Red Peppers. Well for weeks I have been trying to figure out what to do with these peppers and Thursday night it finally came to me. I would make roasted red pepper cream sauce with them. YUMMY!  Who doesn't love fettuccine right?  If you like roasted red pepper pesto or roased red pepper cream sauce, I think you'll find this to be a pretty easy (and very tasty) recipe to make.
INGREDIENTS
1 Pkg of fettuccine pasta
1 jar of Mancini red bell peppers
2 tablespoons minced garlic
3 tablespoons of chopped basil (flakes are fine)
2 tablespoons e.v.o.o.
2 cups half-and-half
1/4 cup grated Romano cheese
3 tablespoons butter
s & P
DIRECTIONS
Open and drain the Mancini red bell peppers. In a sauce pan, combine garlic, basil, and (diced) red peppers with 2 tablespoons olive oil. Cook on low for 10 minutes.
Pour red pepper mixture into a blender and puree. Once pureed, pour into a skillet and reheat to a boil. Once the boiling begins add in the half-and-half and the Romano cheese. Once the cheese has melted add the butter. Simmer for 5 minutes then remove from heat and allow to thicken.
Serve over your favorite variety of fettucine pasta. I used roasted red pepper fettuccine this time.